The ICC Cricket World Cup 2023 is set to kickstart in India from next week. As our nation gets set to host the men's Cricket World Cup for the fourth time (earlier ones in 1987, 1996, and 2011), every Indian must be praying to win the cup.
Economic Windfall Regardless of the Outcome
While the outcome of the World Cup remains uncertain, one thing is guaranteed: a significant boost to the Indian economy. According to a BQ Prime report, the Indian economy is expected to gain approximately $1.64 billion (Rs 13,500 crore), which is a conservative estimate.
Factors Contributing to Economic Growth
With the ICC World Cup 2023 approaching, various factors contribute to the economic windfall:
Tourist Influx: Fans from India and overseas will flock to different cities to witness the matches, leading to increased spending on tickets, hotels, food, and more.
Aviation and Hospitality: The aviation and hospitality sectors will benefit immensely, with surges in air traffic and room rates during high-demand matches, such as India-Pakistan clashes.
Restaurant and Fast-Food Business: Demand for restaurants and fast-food chains will soar, catering not only to tourists but also to millions of Indians opting for home delivery.
Merchandise Sales: The sale of memorabilia and merchandise will contribute to the economic boost.
Ways in Which the Indian Economy Will See a Boost
The direct financial impact includes various factors:
Spending Categories: This encompasses airfares, accommodation, stadium tickets, food and beverage expenses, and intercity travel, both domestic and foreign.
Average Spending per Person: Calculations were made for five cities hosting matches, including Ahmedabad, and used to determine spending on matches in 10 host cities.
Attendee Demographics: Assuming 100% stadium occupancy, the estimate includes international attendees (20%) and Indians from outside and within the home city (40% each).
Key Cost Components
Air Travel: Calculated as round-trip expenses to and from match-hosting cities during high-stakes matches.
Hotel Stay: Based on average nightly tariffs of three, four, and five-star hotels during the World Cup.
Stadium Admissions: Ticket prices for each match.
Eating and Drinking: Three meals a day at various restaurant categories.
Intercity Travel: Expenses for travel between airports and stadiums, with an extra allocation for additional travel costs.
Direct Impact on the Economy
The sum of these costs results in the direct cost per match for an individual fan, which varies by city. For example, an attendee traveling from Delhi to Mumbai will spend Rs 30,200, while one traveling from Mumbai to Delhi will spend Rs 29,600.
Cost Per Attendee Home City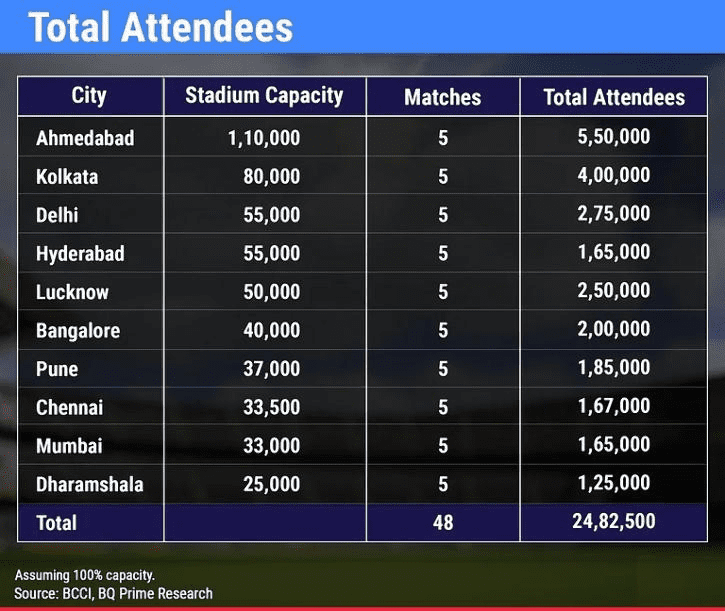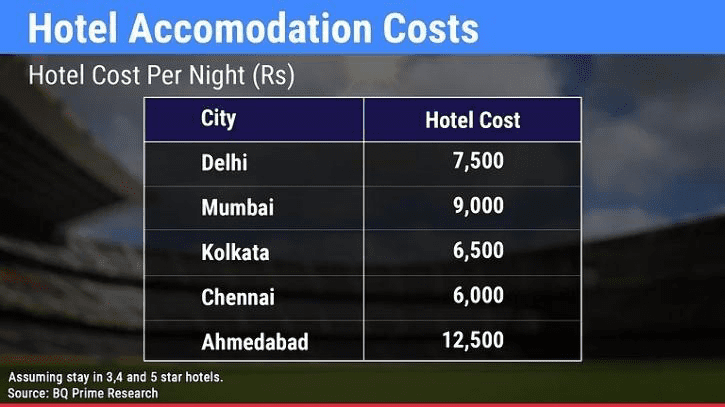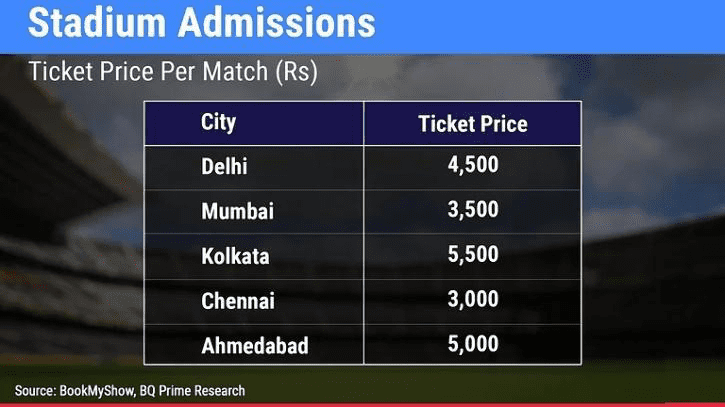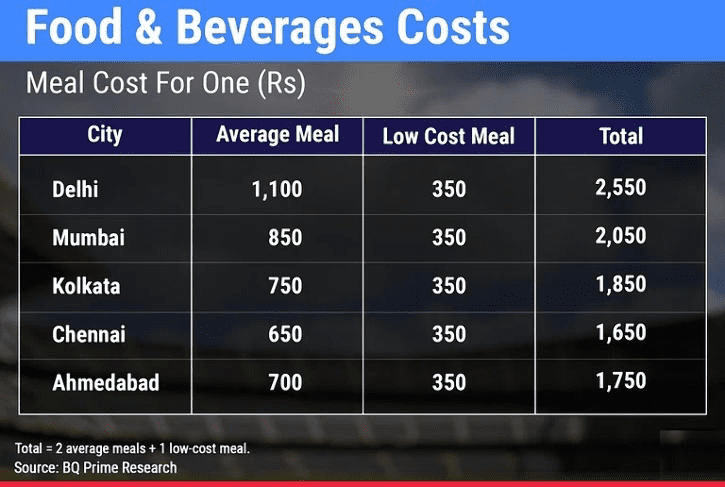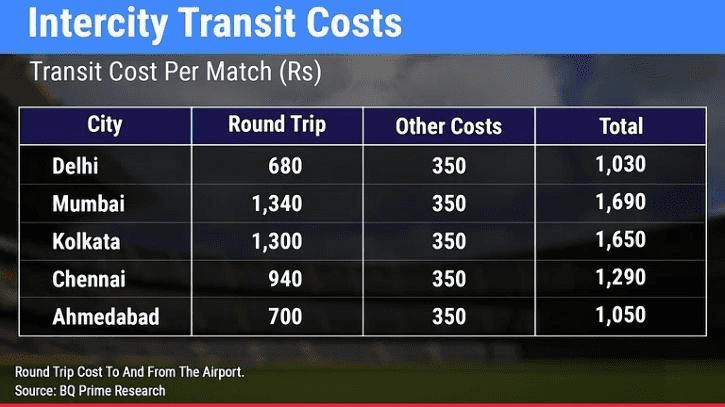 The average cost for visitors from within a city stands at Rs 7,600 per match, totaling about Rs 755 crore. For intercity and international attendees, the average cost is estimated at Rs 32,100 per match, with a total direct impact of Rs 4,781 crore.
Indirect Impact: Tourism and Infrastructure
Tourism: International travelers spend about 70% of their budget on tourism and associated expenses, making an estimated Rs 1.14 lakh per international attendee for tourism in India during the World Cup.
Infrastructure: BCCI's spending of Rs 500 crore on stadium infrastructure and renovations adds to the indirect financial impact.
Total World Cup Impact
The combined direct and indirect impact amounts to Rs 11,750 crore. Additionally, a 15% impact is assumed to account for smaller and diversified spending on merchandise sales, bringing the total estimated economic impact of the Cricket World Cup 2023 to Rs 13,500 crore or approximately $1.64 billion at prevailing exchange rates.