Shubman Gill | Age: 24 | Team: India
In the Spotlight: Shubman Gill, the Rising Star of Indian Cricket
Shubman Gill, a 24-year-old batting sensation, has already left an indelible mark on the world of cricket. As a key member of the Indian cricket team, he opens the batting alongside the formidable Rohit Sharma. Gill's cricketing journey took off when he played a pivotal role in India's U-18 World Cup victory in 2018, under the guidance of former cricketer Rahul Dravid, who was then the U-18 coach. Today, both Gill and Dravid find themselves in the senior setup, with their eyes set on another World Cup triumph.
Gill's prowess isn't limited to the international stage; he also made waves in the IPL 2023 season, clinching the Orange Cap with an impressive tally of 890 runs in just 17 matches. Moreover, he's making significant strides in the ODI format, amassing 1230 runs in just 20 appearances, including a remarkable double hundred. With his exceptional skills and determination, Shubman Gill is on the cusp of achieving great heights, and the 2023 World Cup could very well be his launchpad to stardom.
Suryakumar Yadav | Age: 33 | Team: India
Suryakumar Yadav: India's Late Bloomer with Explosive Potential
Suryakumar Yadav's journey to international cricket was a tale of perseverance and hard work. Despite shining in the IPL for years, he made his T20I debut for India only in 2021, against England. Yadav's batting prowess has drawn comparisons to the legendary AB de Villiers, showcasing his ability to wreak havoc on any given day.
While Yadav faced challenges in the ODI format, the team management's unwavering support reflects their belief in his ability to turn the tide with his explosive batting. A Yadav blitzkrieg can dismantle any bowling attack and catapult India to victory. Keep an eye on this late bloomer; he has the potential to be a game-changer in the 2023 World Cup.
Cameron Green | Age: 24 | Team: Australia
Cameron Green: Australia's Versatile All-Rounder
Cameron Green's cricketing career has been on a meteoric rise since his international debut in 2020. In an era when Australia prefers specialized players for different formats, Green stands out as an all-round talent who contributes significantly in all three formats of the game.
Earlier this year, he made headlines when the Mumbai Indians secured his services for a staggering Rs. 17.5 crore in the IPL. Green's skill set includes right-arm fast-medium bowling, a strong middle-order batting performance, and exceptional fielding. While the spotlight may often shine on other all-rounders like Glenn Maxwell and Mitchell Marsh, Green has the potential to consistently deliver match-winning performances, quietly making his mark.
Harry Brook | Age: 24 | Team: England
Harry Brook: England's Explosive Middle-Order Dynamo
Harry Brook's inclusion in England's World Cup squad came with a touch of controversy, as he was initially omitted. However, his impressive domestic and Test cricket performances earned him a well-deserved spot. Brook is a hard-hitting middle-order batsman whose style perfectly aligns with England's aggressive brand of cricket.
Having delivered consistent performances, including scores like 153, 87, 9, 111, 89, 54, and 186 in a Test series against Pakistan, Brook is poised to set the World Cup stage on fire with his explosive batting. England's love for slam-bang cricket may find a perfect match in Harry Brook's aggressive style.
Bas de Leede | Age: 23 | Team: The Netherlands
Bas de Leede: The Netherlands' Rising All-Rounder
The Netherlands returns to the ICC Men's ODI World Cup after missing the 2019 edition, and Bas de Leede is a player to watch out for. His all-round prowess played a pivotal role in securing the team's ticket to India after a successful run in the World Cup qualifier.
De Leede's extraordinary performance, including a spell of 5-52 with the ball and a blazing 123 off 92 deliveries while batting at No. 4 against Scotland in the qualifying tournament, earned him a spot in the record books alongside legends like Viv Richards. With a cricketing pedigree, including his father Tim's World Cup exploits, Bas de Leede is poised to make a significant impact in the World Cup for the Netherlands.
Rachin Ravindra | Age: 23 | Team: New Zealand
Rachin Ravindra: New Zealand's Young All-Rounder with a Cricketing Legacy
Rachin Ravindra, a 23-year-old cricketer from New Zealand, carries a legendary name inspired by cricket icons Rahul Dravid and Sachin Tendulkar. His selection into New Zealand's senior squad came after a series of impressive performances in domestic cricket.
Ravindra is an all-rounder who excels in slow left-arm orthodox bowling and can wield the bat anywhere in the lineup. His recent spectacular innings, scoring 97 while opening the innings against Pakistan's pace battery, underscores his batting prowess. As New Zealand has a rich history of successful left-arm spinners, Ravindra aims to join that elite list with a stellar performance in the World Cup.
Marco Jansen | Age: 23 | Team: South Africa
Marco Jansen: South Africa's Emerging All-Rounder
Marco Jansen, a left-arm fast bowler, made a lasting impression on none other than Virat Kohli when he was just 17 years old. Today, he is an integral part of South Africa's World Cup squad. Jansen recently achieved a significant milestone by securing his first five-wicket haul in ODIs in a match against Australia. Additionally, he contributed with the bat by scoring 47 runs in the same match.
Jansen's ability to contribute both with the ball and the bat makes him a valuable asset for any captain. With his burgeoning talent and potential, he's set to become a key player for South Africa in the World Cup.
Matheesha Pathirana | Age: 20 | Team: Sri Lanka
Matheesha Pathirana: Sri Lanka's Young Speedster
Sri Lanka boasts a pool of young and exciting talent in its World Cup squad, and Matheesha Pathirana is a standout player. With a bowling action reminiscent of the legendary Lasith Malinga, Pathirana has garnered attention worldwide.
His impressive performances in the 2023 IPL season, where he earned regular starts with the Chennai Super Kings, demonstrated his prowess. Pathirana's ability to consistently bowl at speeds ranging from 145-149kmph and deliver toe-crushing yorkers or bouncers makes him a crucial asset for Sri Lanka's captain, Dasun Shanaka.
Maheesh Theekshana | Age: 23 | Team: Sri Lanka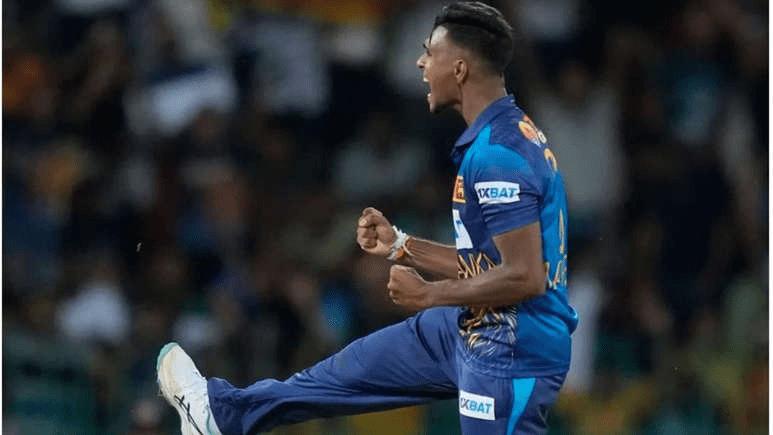 Maheesh Theekshana: Sri Lanka's Versatile Off-Spinner
Maheesh Theekshana, an off-spinner from Sri Lanka, has been compared to the legendary Ajanta Mendis due to his unique bowling action. Captains trust him with the ball, even in Powerplay overs, showcasing his ability to adapt his spin to different situations.
With Wanindu Hasaranga's unfortunate absence from the World Cup due to injury, Theekshana becomes Sri Lanka's most important spinner. His versatility and effectiveness make him a key player in Sri Lanka's quest for World Cup success.