Every cricket fan hopes to design the ideal fantasy team or become a Fantasy Team Expert. However, doing that is difficult. To succeed in fantasy team, players need to be skilled and knowledgeable about the sport. You will quickly become a Fantasy Team Expert if you play a lot of practice games and use fantasy tips and tricks when choosing your team!
A fantasy league is an online game where you play games in real life to build your team and earn points based on how each player performs in a match. The majority of these games are of the cricket and football varieties with a large number of players. You can make a lot of money playing fantasy games.
Numerous users are also rising in tandem with the ever-increasing number of fantasy applications. As a result, numerous Telegram channels are created to posing as fantasy expert team providers..
Cricket fantasy is at an all-time high. It has more users than ever before, and the number keeps going up. We can only anticipate an increase in the popularity of fantasy platforms like Gamethon Naya11 in light of the upcoming ICC Men's T20 World Cup.
While some people find playing fantasy cricket to be fairly simple, many find it difficult to get started. The increased number of users has made it even more difficult to win money in it. However, the good news is that there are numerous websites, telegram channel are available online that can assist in team formation and provide predictions for upcoming matches. But with the increase of such experts, here is confusion in choosing the best fantasy expert for a winning team and there is always a risk of falling in the trap of fraudsters asking for money or subscription for providing teams. So how does one choose the best fantasy expert for getting a winning team.
How Fantasy Expert Predict Teams
They consider following parameter creating their teams
Select the right combination.
Choose the captain and the vice-captain wisely.
Maintain a balance in your team.
Make practical decisions.
Join with multiple teams.
How Fantasy Expert Provide Teams
Fantasy experts build fantasy teams with their skills and experience. This benefits many people who find it difficult to form a team. What would be the benefit to them? The number of people who make fantasy teams is very high. On any social media website such as WhatsApp, Telegram, Facebook, it gets a lot of followers. More followers on the contrary, more incentives. These can also be encashed in the form of advertisement or driving traffic to particular fantasy apps.
Some fantasy experts even charge a fee for giving teams such as commissions on winning amounts or on a direct subscription basis. Everywhere many fantasy experts are seen sharing their team. Even they claims to get the first rank. Due to this, many times many players are playing with same team, from which no one get benefits.
Problem facing by Fantasy Players
Seeing so many teams given by fantasy experts, users get confused. Problems are plenty for the users, Some of the major challenges face by the fantasy players are:
How to identify fraudsters among all the experts
How to choose a right fantasy expert
Trust issue, how to trust a fantasy expert
Authentication of their claims they make about their winners
Why to pay in advance or subscription in advance for team
How to verify their winning percentage of their teams
How to check if their teams has really won 1st rank
How many people are really playing with their teams
Problem facing by Fantasy Experts
Coin has two sides. If the fantasy player is facing the problem, in the same way the fantasy expert also faces some problems. Some of the problems face by them are:
Self Promotion across all social media networks.
Always looking for followers so that their following increases.
Making a trustful relation between them and players
Also follow their users to get their payment or commisions after a win
Competition with other fantasy experts
How to get steady income form their services
Best Solution for the Problem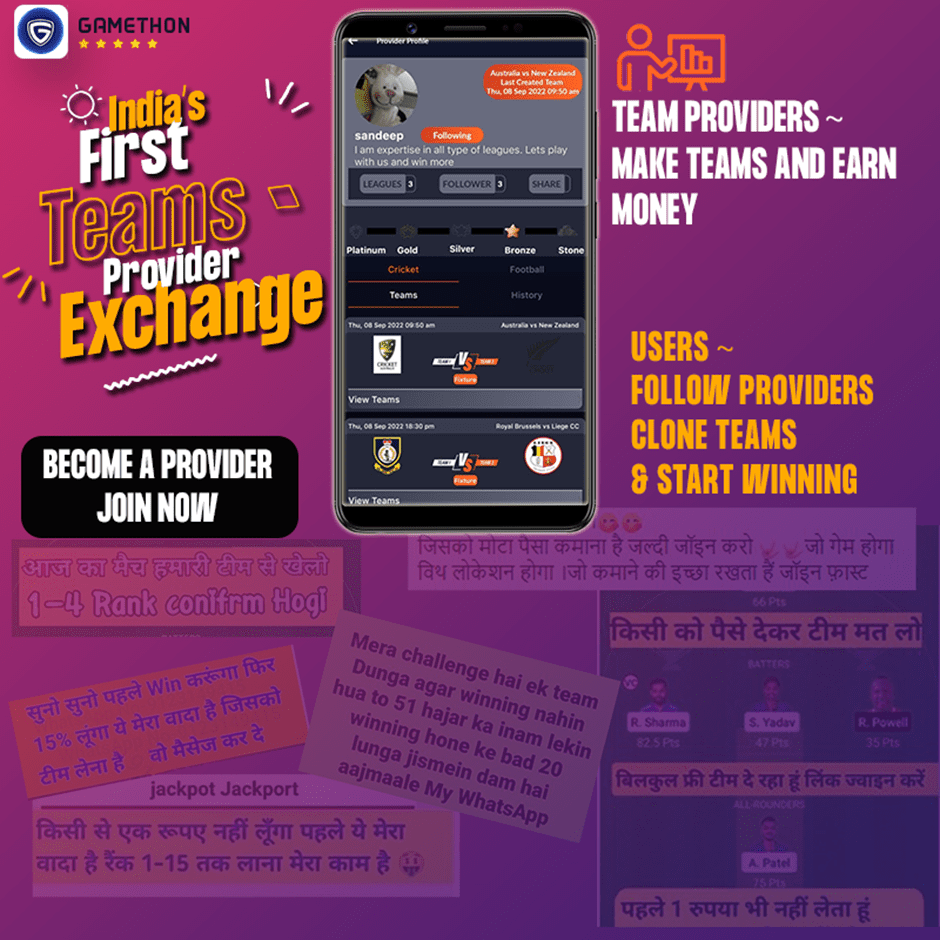 If there is a problem then it is also necessary to find its solution. Best solution market is right now Gamethon Fantasy Team Provider Exchange.
Let's know about Gamethon Fantasy Team Provider Exchange
Gamethon Fantasy Team Provider Exchange
It is typically a Team Provider – User exchange for Fantasy teams
Why you use Gamethon Fantasy Team Provider Exchange?
It enhances your chances of success.
Complete performance data analysis for the team providers
Using this analysis, you can select the best service provider and improve your chances of winning.
Get analysis for each match performance. This helps identify consistency.
No payment in advance for any team
Quick and Ease of cloning a fantasy expert team with just one click.
How Fantasy Expert earn through it?
How Fantasy Expert earn
Fantasy Expert should follow these simple steps:
Register in gamethon app
Apply for Team provider profile
Grow followers, share profile link in other social links
Make teams
Teams get cloned by followers and join contest
Start earning
Fantasy Team provider earns whenever his team wins. His level affects how much he earns. Earnings are higher when higher the level. The payoff is even greater if his team achieves first place. The Fantasy Team Provider receives a percentage of the winnings, which are deducted from the wallet of the user who cloned the team. More the number of followers cloning his team more the winners and more the earning.
WHY BECOME A TEAM PROVIDER?
Begin making money as a fantasy team provider.
It's easy to make teams.
Your followers can easily access your teams, and they can easily copy your teams. You can make money when your copied teams win.
Earnings increase as more teams are copied.
Don't worry if you edit the team in the last minute. Your cloned team also gets edited automatically for your followers, even if you edit the team later.
Make regular money from regular followers.
Opportunity of regular monthly income as matches are continuous throughout the year
Leaderboard contest for team providers also separately, which is not provided by anyone ever.
WHY CLONE TEAM AT GAMETHON?
CLONE TEAM AT GAMETHON
More choice of experts and expert teams at one place – Every time you can get winning teams over a thousand suppliers and a thousand winning teams per match
Choosing a team provider is easy – Complete statistics on the overall and match-by-match performance of team providers such as Total Winning Amount, Highest Rank Received, Total Number of winners, Total teams cloned.
Better chances of winning – This analysis helps you select the best provider and improves your chances of winning
Trusted location to copy teams from providers
Time saving – Saves time while searching for providers
Get teams for all leagues and matches, and don't be alarmed if the service provider changes the team in the last minute. Your cloned team will also be edited automatically, even if providers edit the team later.
Ease of making teams – Just click on clone button and the team is copied. Join contest in secs with that team.
How Gamethon Fantasy Team Provider Exchange works ?
For Provider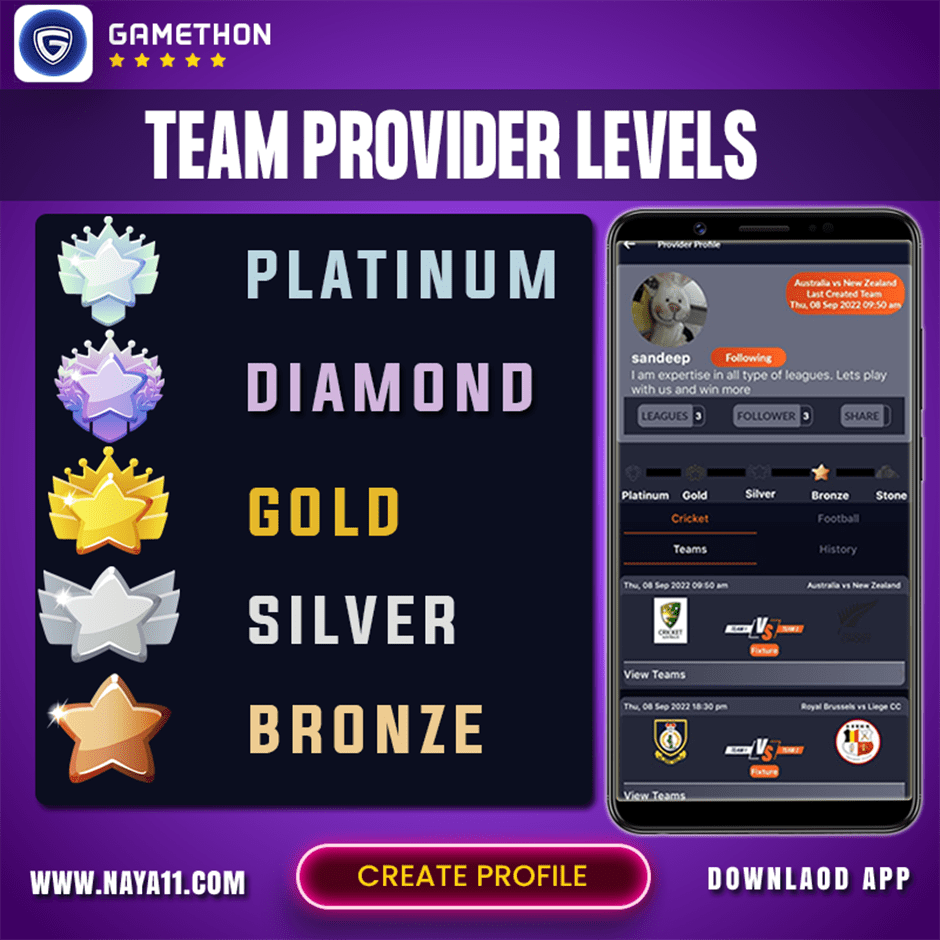 Start at Bronze Level, form a team, promote your profile to followers, and copy teams.
Once a copied team wins, you get an instant credit for your earnings.
As your level rises, you get more followers, more wins, and more first rank.
Level is determined each month.
For User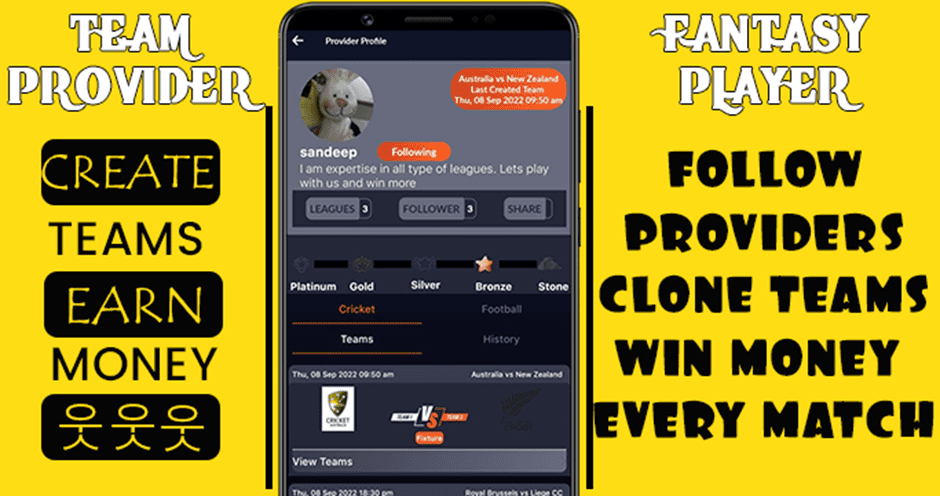 Follow Team Providers
Analyse their performance and follow fantasy team providers.
This analysis helps you choose the best performing provider and increases your chances of winning
Clone teams from provider profile or my teams
Hope you enjoy the article. This article helps you to secure your monthly income by increasing the chances of winning.